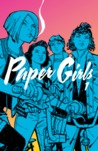 Paper Girls, Vol. 1
by
Brian K. Vaughan
My rating:
3 of 5 stars
This book is damn good with a few nitpicks and plenty of room to grow. Cliff Chiang's art blew me away from page one, and Brian K. Vaughan knows the elements of a good story (even if there's something just a little bit off in this one vs. the start of say, Saga or Y: The Last Man). Paper Girls kicks off in small town America in the 80's where we're introduced to 4 teenage girls on their paper route. Things get weird when ninjas show up out of no where. And then some Pterodactyl riders. And there's a pod... And... you know what, just read it.
On the downside, the 80's setting is reminiscent of some of my favorite movies growing up but doesn't fully invoke the feel that I really want -- the feel that Stranger Things was able to pull -- at least not yet. There is a language used during vol. 1, a variation on English that is composed mainly of some kind of newslang, that seems made up on the spot and some of the wording pulls me out of the story a little. Maybe it's a well thought out dialect, but I just didn't get that impression.
That said, this book has a lot going for it, too. The main characters are great, I'm looking forward to more back story from each of them. I do love me some weird sci-fi and throwing these four teenage paper girls in the shit is a strange juxtaposition that I think works quite well. And the cliffhanger for the end of vol. 1 is effective as hell.
If you're looking for a bit of a complex story with a kids-fighting-monsters, sci-fi feel to it, I think you'll dig Paper Girls.
View all my reviews
ORDER HERE: Paper Girls Vol. 1